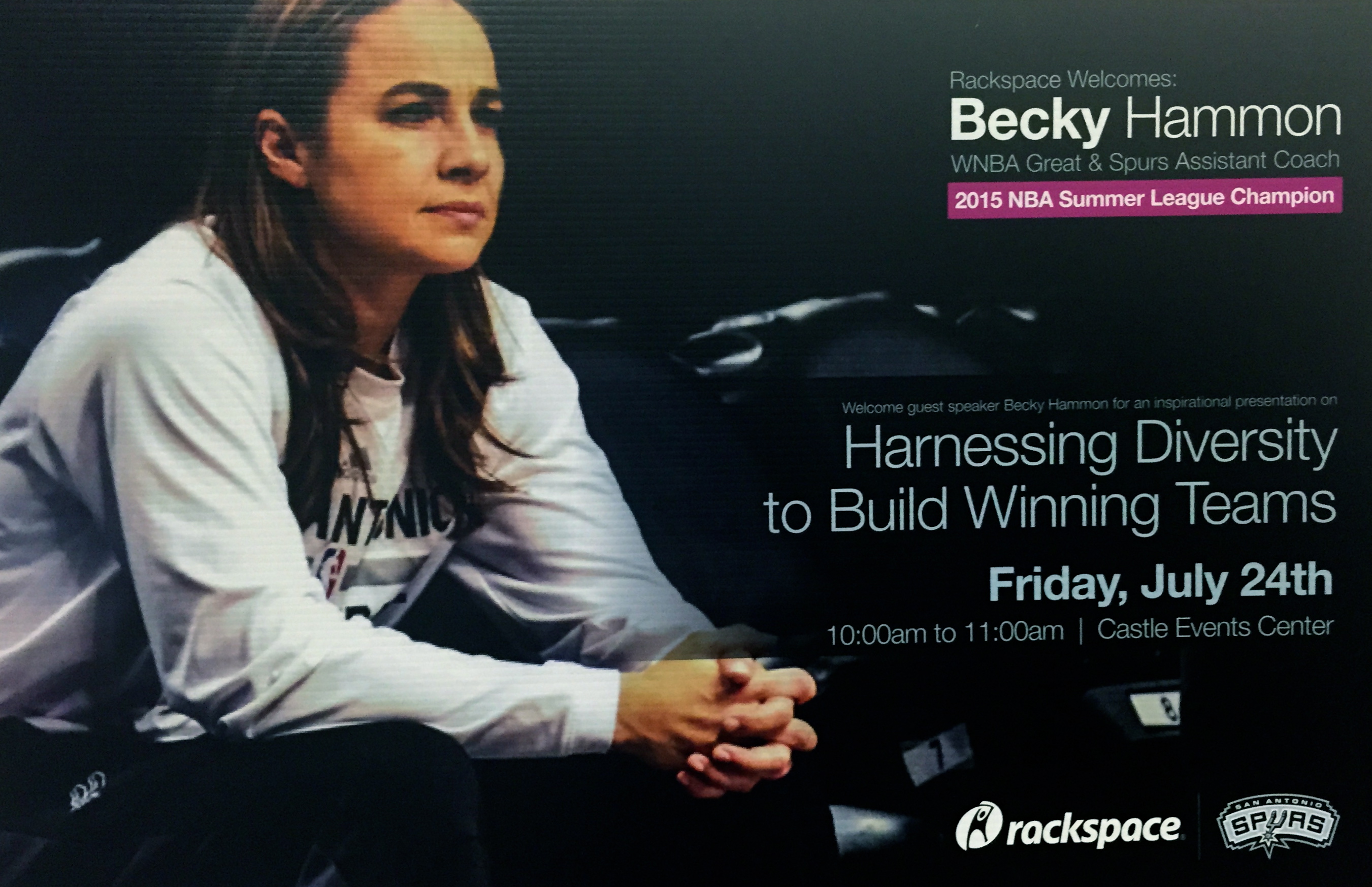 I had the sincere pleasure of watching Becky Hammon speak at the Rackspace Headquarters this morning. With the new gig as the assistant coach for the San Antonio Spurs and the very recent win of the Summer League, Becky has been hitting headlines left and right. It was no surprise she packed the Rackspace Events Center with standing room only as Rackers flooded in with much anticipation to see her speak in person.
What I loved about her speech, or really about her story, was how authentic it was. Sometimes I think we expect these leaders and these people that are breaking barriers to tell a flashy story. In reality, to be a leader like her, starts with a solid foundation. The Spurs organization is a prime example of having a solid foundation that you can build off of and it's no surprise that she is now one of those building blocks.  If I had to keep it to five things, here's what I took away.
To earn respect, you need to listen and serve first.
Becky has been on many teams throughout her lifetime. And no matter how good she is or what her experience was, when she moved to a different team, it was like starting new again. She was still the new person on the team and always had to earn the respect of her teammates. When you ask her about how you earn that respect, she said multiple times "you listen and serve your teammates." She even said if that means grabbing t-shirts and water bottles, that's what you did. When she played overseas, it was even more important to show your service because of the language barrier; she needed to show her teammates how much she cared for them through her acts of service.
Trust your heart to make tough decisions and don't look back.
When Becky wasn't asked to play for the US Olympic team, she had the option to sit at home and watch the Olympics over some BBQ, or she could go play for Russia. As a girl that grew up in South Dakota, she is as American as you can get so going to play for another country was definitely a tough decision she had to make. So how does she handle tough decisions like this one? She literally said "pray, listen to your heart and depend on your circle of family and friends that have your best interest at heart." When she made the decision to go play for Russia, she received a lot of backlash and people even questioned her patriotism. But because she felt in her heart that she was doing the right thing, nothing else mattered. She focused on serving her team and being the best she could and ended up bringing home the Bronze.
You don't have control over someone's attitude but you do have control on how you respond to it.
I love this point because attitude is something that no matter how good you are at a sport or a certain skill, it's your attitude that will take you through to success. I've learned this as an athlete growing up and is something that I continued to drill into the kids I coached a few years back. You can be the best player on the team from a physical standpoint but a bad attitude can oversee that potential and can be detrimental to the team. It's no different in the business world. The reality is people will still have bad attitudes and sometimes people might just be having bad days but often times, it's their permanent being. Becky points out that even though you can't change someone's attitude, you can control how you respond. It's so easy to become the complainer about people but it's harder to not let it affect you and the rest of the team and even harder to rise above and change the course of direction to a positive one.
Going for the quick win does not mean you will have longevity of winning.
This goes back to building a foundation. She talked about how Coach Pop starts with building a foundation first that is not to be messed with, even through loss. Often times in professional sports, when teams don't make the playoffs, they will change management, change the team and bring in big names that will hopefully get them a ring. Becky says that they might get a quick win and if that is what they want, then they've won. But if they're looking for tenure and a longevity of wins, those practices will not get them there. This really relates nicely to the corporate world. Companies are often under pressure to hit revenue and profit targets and when they are missed, people panic and change direction, strategy, people, etc. But if you have a solid foundation and a set of core values, missing a goal is just an obstacle that you have to overcome to reach long term success. If you react to that loss, you take yourself backwards instead of forwards.
You really can make a living doing what you love, it just may not be in a manner that you initially thought.
As a little girl, starting at the age of five, Becky loved basketball. She emphasized the importance of repetition and practice. She knew that she wanted to make basketball her career. Her dad always told her that she could do anything. When she asked her dad if she would be able to play basketball in the NBA, he said well, "no." At the time the WNBA didn't exist so it didn't seem possible to pursue a career in the NBA. When she landed the job as an assistant coach for the San Antonio Spurs, she said she was excited to make that phone call back to her dad to say "You never said that I couldn't coach for the NBA."
What an honor to have heard her in story in real life and what an honor it is to have her as a leader in our city. This was truly a special and memorable moment for myself and many other Rackers. Go Spurs Go!