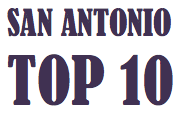 I am tired of hearing people complain about San Antonio and how it sucks – especially from people that actually live here. Maybe I am defensive because I did grow up in San Antonio but at the same token, nobody is making me stay here. I have chosen to stay and raise my family here. I love cities like San Francisco, Chicago, New York – but San Antonio is home. When you call a place home, it's because you see economic opportunity and because you feel connected to a community.
As I thought about this, I drew up a list of things that make San Antonio great. Yes, we have the Alamo and the Spurs (one of the top 10 Finals team of all time) but I purposely did not include these on the list. We are a great place for tourists but I think an even better place for locals. Here's why:
1. We're Hiring!

Forbes recently released the results from a survey conducted by the ManpowerGroup revealing what the job opportunity landscape looks like in metropolitan areas across the US. "The survey reveals that the metropolitan area with the most optimistic forecast of all for hiring this fall is San Antonio, Texas."
Richard Perez, president and chief executive of the Greater San Antonio Chamber of Commerce, goes on to state that:
"San Antonio's list of large employers is long and diverse. We do not rely heavily on one area and that is by design. San Antonio has many industries that together keep us a resilient economy. We are fortunate to have many strong industries, and many strong companies with large employee bases."
Click here to read the full article.
With the US unemployment rate sitting at 9.1%, this is something to be very proud of (San Antonio is sitting at 7.9% right now).
2. We're Smarter than you Think
As the home to six 4-year accredited colleges and universities and five community colleges, we have 30,000 students graduate from San Antonio colleges and universities every year. Here's a list of our great schools:
Alamo Community College District: Northwest Vista College, Palo Alto College, St. Philip's College, San Antonio College, Northeast Lakeview College
4-year Accredited Colleges and Universities: Our Lady of the Lake University, St. Mary's University, Trinity University, The University of Texas at San Antonio, University of the Incarnate Word, Texas A&M – San Antonio
And we're home to the University of Texas Health Science Center, ranked in the top 3 percent of all institutions worldwide receiving NIH funding and has endowments of $367 million market value.
3. Big Homes, Smaller Mortgages

Compared to the rest of the country, San Antonio's cost of living is 16.60% lower than the U.S. average.
If nothing catches your attention off this list, hopefully this does. I have friends on the East Coast and West Coast and this is the #1 thing they are envious of – the amount of square footage we get for significantly lower costs than other places across the country. Everything is bigger in Texas is true when it comes to size of homes and amount of land one family gets.
4. Great Food
We recently ranked in the top 10 of Travel and Leisure's America's Best Cities for Foodies. They quote:
"People say they come here for the historic Alamo, but it could very well be the queso- and chile-sauce-slathered Tex-Mex: San Antonio ranked in the top 10 for both ethnic fare and barbecue."
Many other great restaurants have been featured on various Food TV shows including Los Barrios on the Food Network's Throwdown with Bobby Flay, La Gloria's Owner Johnny Hernandez on Bravo's Top Chef, Taco Taco Cafe on Food Network's Bon Appetit and Tip Top on the Food Network's Diners, Drive-Ins and Dives.
5. Home to the 1st Smithsonian outside of the Nation's Capital

The Museo Alameda is the first formal affiliate of the Smithsonian outside of Washington D.C. and is what started the Smithsonian's affiliations program. San Antonio was mentioned in the NY Times as having a
"…broad visual art scene that ranges from contemporary to folk, with a special concentration on Latino work. There's a First Friday art walk (southtown.net); nonprofit centers like Artpace (artpace.org); and quality museums like the San Antonio Museum of Art, the Witte Museum and the Briscoe Western Art Museum, which is set to open in 2012."
6. Great Place for Families
You don't have to make a trip to Houston, Dallas or Orlando to experience theme parks for your kids; we have them right in our own backyard. We're home to two major theme parks, Six Flags Fiesta Texas and Sea World (the largest), and to the San Antonio Zoo. It doesn't end there. We also have the Botanical Gardens, Witte Museum, the San Antonio Children's Museum, Kiddie Park (a local favorite), and Morgans Wonderland (the world's first ultra-accessible family fun park).
7. FIESTA: "The Party with a Purpose"
New Orleans is known for it's Mardi Gras and San Antonio is known for it's Fiesta week. Fiesta San Antonio started in 1891 as a one-parade event and has evolved today into one of this nation's premier festivals with more than 100 events and an economic impact of almost $284 million for the city. Each event is produced by a nonprofit organization and the funds raised provide services to San Antonio citizens throughout the year.
I think Fiesta is a reflection of the vibrant colors of San Antonio and most importantly, it's a reflection of the strong philanthropy community we have in San Antonio.
8. Vineyards Down the Road

You don't have to take a trip to Napa to enjoy good wineries. You can drive up to the Texas Hill Country to discover over 30 unique wineries. USA Today quotes:
"With more than 200 wineries, Texas has become a leading state for vintners. And the scenic area near Austin and San Antonio is the center of the action. Winemakers have learned that grapes from other warm-climate areas do well here, including Spanish Tempranillo, French Syrah and Italian Sangiovese, Siegel says. With all the attention, the town of Fredericksburg has become a mini-Napa with fine restaurants, shopping and bed-and-breakfasts."
9. Great Place for Entrepreneurs
This is something I am most excited about because providing the foundation for businesses to get a healthy start is what will keep San Antonio thriving. We have successful and influential businessmen and women in this city and their willingness to help the next generation is admirable. Geekdom is helping tech startups:
"Geekdom is a nonprofit organization that will host technology workshops, lectures and events. It also provides office space to startups and desks to other technology workers through an application process. The center has an outreach effort to local high school and college students."
I'm proud to have worked with many of the individuals behind this program and am excited to see what's to come.
And if you're looking to get into the restaurant business but don't have the funds to get started, Bake, Broil and Brew provides an "incubator kitchen for entrepreneurs."
10. Because Mark Twain Said So
Mark Twain, America's most famous literary icons, once said,
"There are only four unique cities in America: Boston, New Orleans, San Francisco and San Antonio."
No need to argue with that.
As with everything, there is always room for improvement and by no means do I think San Antonio has met the standards of a picture perfect city, if that even exists. We need better public transportation, more establishments for downtown residents and more green initiatives (although San Antonio has implemented an organic recycling pilot program for select neighborhoods). But I don't think it gives us "sucky" status – I think it's a sign for us to speak up and make changes.
A city is a reflection of the actions of its' residents. You're here for a reason so please help make it a better place.
I would love to hear your comments.